Home
Links To Railfanning Information
Site visitors:
118174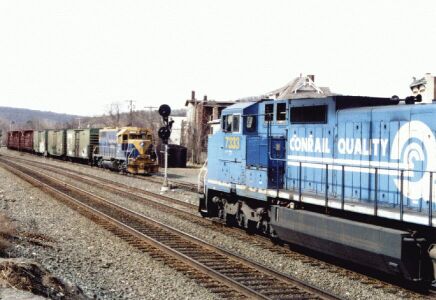 CSX manifest freight Q427 meets NECR local Train #612 at Palmer, MA. Photo taken April, 2002 by Joshua Moldover
Oxford Junction Press specializes in detailed railfan timetables covering the New England area, as well as a selection of quality railroad books for children. Timetables are railroad-specific, and include:
Lists of all stations, bridges, crossings, and other points of interest, for both lines owned, as well as operated over via trackage rights
Complete and up-to-date schedules for both freight and passenger trains operating over the railroad
All appropriate operating rule summaries
A full listing of railfanning locations in the territory covered by the timetable, showing train operators, frequencies, radio channels, and defect detector information, along with maps and directions to get you there.
Railfan timetables currently available include CSX Transportation's eastern New York and New England routes, the entire Guilford Rail System, the Connecticut Southern, Housatonic, New England Central, and Providence & Worcester railroads, and the Grafton & Upton Railroad. Browse through the catalog for more information about any or all of our publications.
Now available - custom address labels featuring your choice of hundreds of combinations of railroad, paint scheme, and locomotive. Now you can show off your favorite railroad with every letter you send! Browse through the label catalog to find out more!